the commemoration
Ceremony in Biella for the Day of Remembrance, the poem by Nicola Loi
A representative of the Sardinian community was present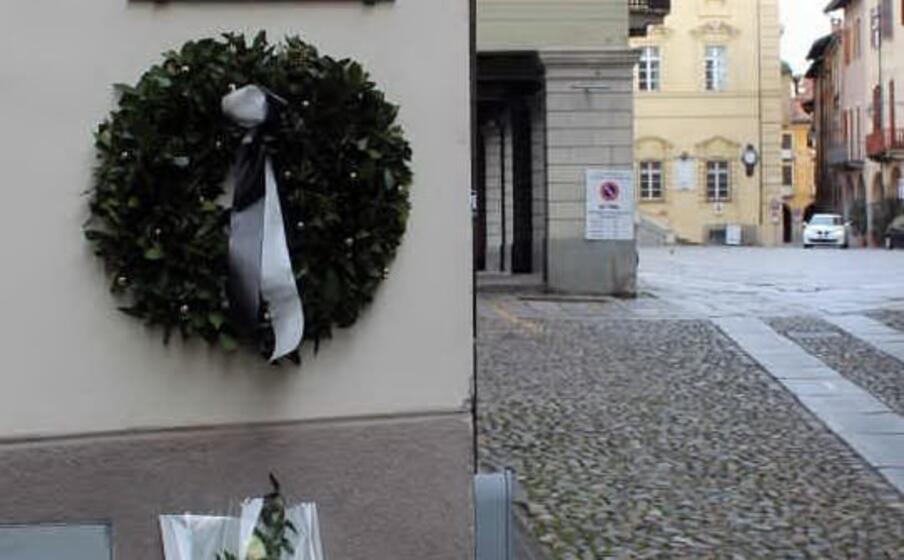 Ceremony today in Biella on the occasion of Remembrance Day.
The Sardinian community took part in the celebration with a poem specially composed by Nicola Loi di Ortueri.
In the morning, in the Jewish ghetto of Biella Piazzo, in the presence of the highest local civil, religious and military authorities, the prefect Franca Tancredi, laid three white roses wrapped in the tricolor ribbon. At his side, the first citizen Claudio Corradino and the mayor of Callabiana, Lorenzo Vercellotti.
"Under the tombstone commemorating the victims of the Holocaust in Biella - explains Simmaco Cabiddu of the Sardinian club" Su Nuraghe "- the laurel wreath of the Jewish Community of Biella was placed, decorated with a white-gray bow in the colors of the deportees' uniforms also honored by Bishop Roberto Farinella ".
The day continued with a visit to the ancient synagogue and the entrance to the halls of Palazzo La Marmora for official prayers and the delivery of medals of honor reserved for Italian citizens, military and civilians, deported and interned in Nazi camps.
The poetry of Nicola Loi:
Sa Die 'e sa Memoria
Iscrio pro sa Die 'e sa Memoria,
That man is maintained so broadly.
It's the biggest man in history,
That place has totucantos in torment.
Tratados che un '' aca, o unu 'itellu,
Istrupiados, nieddos, Jews.
Mandados totucantos a masellu,
Postos in mesu a malos-anneos.
Sas mamas te sos sorighes tratadas,
Experiments for humanity.
Hugs, witch tips,
In numen de s'ariana beridade.
Los ant passados tra fritu e fogu,
Sos betzos mannos e sa pitzinnia.
Falados a chijina in-dogni logu,
Prisoners of such tyranny.
Your trains are crowding,
With suffering and ill-treatment.
Feet of beasts placed in wagons,
What-is-the-smoke that moet your ent.
Tratados che su peus bascaramene,
He made a hell of a living.
Tutu istasidos e morind '' e famene,
In the middle of the astrology she knows.
In-d-a penalty short cuts and knots,
Sena sat in despair.
Ma totucantos sunt restados mudos,
E oe narant pura: no est beru!
Politicians of every nation,
Ant turned to face her.
Totus sos mannos de sa religione,
Cuddos in penas. issos in sa gala.
His life was a chibudda,
No deviant bogare nor alenu.
Deretu los bochiant pro unu nudda,
For electricity, fire or poison.
And hey it costs our humanity,
Chi ancora gherrende est in totue.
Deviatcher know more his pity,
But sighit to go to pesa-rue.
***
Remembrance Day
I write for Remembrance Day,
so that man may retain that memory.
The greatest shame in history,
What a place everyone has in torment.
Treated like a cow, or a calf,
Disabled, blacks, Jews.
Send them all to the slaughter,
Put in the middle of bad pain.
Mothers treated like mice,
Experiments for humanity.
Quartered, stabbed, finally burned,
In the name of Aryan truth.
They passed them between cold and fire,
Too old and children.
Reduced to ashes everywhere,
Prisoners of that tyranny.
Trains filled with piles,
With suffering and ill-treatment.
Worse than the beasts put in the wagons,
Like smoke that moves the wind.
Treated like the worst rubble,
It was a big hell day and night.
All skinny and starving,
In the middle of the ice and snow
In a barefoot and naked punishment,
No hope in despair.
But all who remained silent,
And today they also say: it is not true!
Politicians of every nation,
They turned their faces away.
All the greats of religion,
Those in pain, they in the gala.
Life was worth an onion,
They didn't even have to breathe.
They immediately killed them for nothing,
With electricity, fire or poison.
Today this our humanity,
That he is still at war everywhere.
He should know more about pity,
But it continues to go between ups and downs.
(Unioneonline / ss)
***
https: //www.unionesarda.it/sardi-nel-mondo
You can send your letters, photos, videos and news to isardinelmondo@unionesarda.it
---
---
---
---