Milan
Francesco Cau, the "postman" who delivers the drawings of the children to the elderly alone of the RSA
The idea of a 39-year-old from Perdaxius to give a smiling Christmas to the guests of a retirement home who are unable to leave due to Covid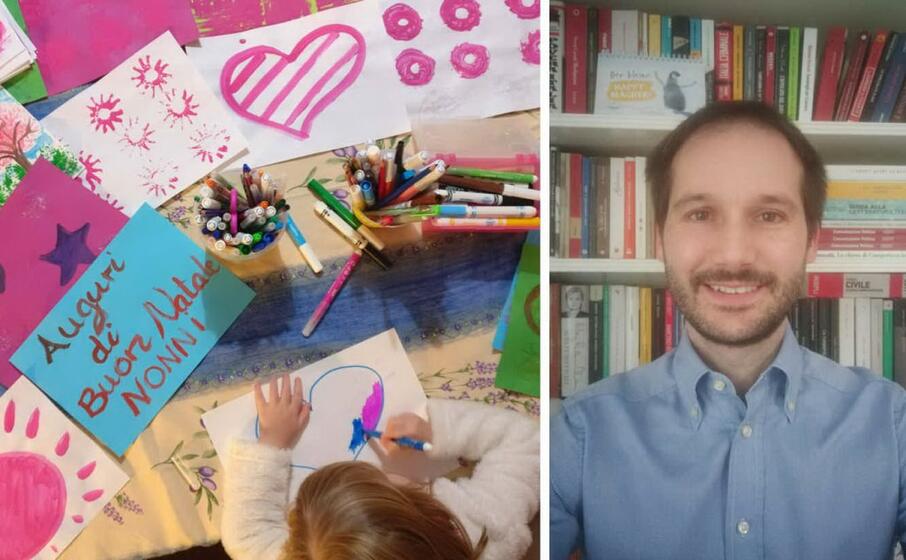 "A small gesture, certainly within everyone's reach, which can convey a bit of humanity and hope, for which the holidays are likely to be an even sadder period".
This is the philosophy behind a social initiative promoted by Francesco Cau, a Sardinian employee who emigrated to Lombardy in 2006, who decided to give the elderly of the municipality where he lives - Cassina De 'Pecchi, in the province of Milan - a special Christmas.
As? With a simple idea, but with a great symbolic meaning. It is he himself, born in Perdaxius 39 years ago, who explains it to L'UnioneSarda.it: "I live a few tens of meters from a home for the elderly, the Rsa 'Il Melograno' of Cassina De 'Pecchi. Up to a few months ago I saw our elderly people walking along the block that runs alongside the residence but this has not happened at least since last February when the doors were closed to external guests due to the doronavirus pandemic ".
"The residence hosts about 100 elderly people with about fifty operators who lovingly take care of them every day. As we know, the situation inside the RSA is not the easiest and the greatest suffering for the elderly is that of not being able to embrace and see their relatives in person, increasing their sense of abandonment. But - continues Francis - in addition to the elderly, children are certainly the ones who are suffering most from the dramatic consequences that the pandemic has imposed on our new daily life. : why not join these two generations, the past and the future of our community, in a virtual embrace? "
And so Cau involved the children of a nursery school in his municipality, asking the little ones to send drawings and wishes to the RSA grandparents, to make them feel less alone and give them a smile, helping them to feel less alone.
"The kindergarten educators immediately grasped the significance of this initiative and had the children create various drawings and works that I personally handed over to the RSA educators in recent days", continues Francis. "And the elders really enjoyed the surprise. Each of them received a drawing and I know that they jealously kept it on the nightstand next to their bed".
"Having given a few moments of happiness to our grandparents, through the drawings of our children, is a real joy that really warms the heart, especially in this Christmas period", concludes Cau.
"We continue to color with joy and make the days of our elderly special. A small gesture, certainly within everyone's reach, which can convey a little humanity and hope, for which the holidays risk being an even sadder period" .
(Unioneonline / lf)
***
https: //www.unionesarda.it/sardi-nel-mondo
You can send your letters, photos, videos and news to isardinelmondo@unionesarda.it
---
---
---
---