return migrations
Sardinian emigrants return on the wave of the virus
Some have resisted everything that has happened abroad, but without work you can't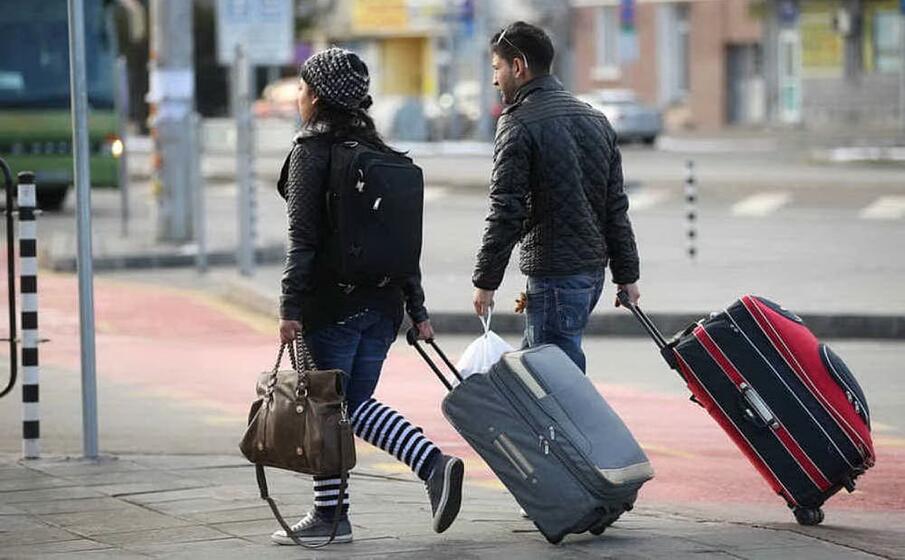 Going home out of fear or need. Escape from Covid and seek shelter in the family, in the streets of one's childhood, at the cost of giving up forever an existence built with difficulty in distant lands. Here are the stories of those who did it without regrets.
Hostess
Some have resisted everything: the tsunami in the Maldives in 2004, the political instability in the Middle East, the difficulty of a language to learn from scratch. Everything, but not the coronavirus which thousands of kilometers from Italy is even more scary. "Frankly, I thought: if I have to die, I'd better die in Sardinia." Fortunately, Ilenia Cardia is not dead: at 34 she left her home in north London, a job at the Bloosmbury hotel, her master's degree at Anglia Ruskin University and returned to Dolianova. «There are several reasons for my choice: the first is that the hotel where I worked closed from March to September. Not to mention the fact that I have more confidence in Italian health care and that I didn't want to live this situation away from my family ». With the exception of a couple of tickets postponed by a few days, the return from the United Kingdom did not pose too many obstacles.
Consultant
It is much more complicated to take the way home for Romina Portas, a 47-year-old from Samassi who has lived in Islamabad, Pakistan since 2014, where she works as a coaching and as a consultant for the embassy and private companies. The terrible spring of Covid and the first segment of summer passed in anticipation of the return arrived only at the end of July. «The health facilities were collapsing and the quality of care is not, as is clear, at our level. Private clinics can only be accessed with certain insurances and mine did not cover Covid. This is why I came back: among other things, I have been following everything in smart working for some time, so I never stopped ». To get home, Romina had to fly from Islamabad to Doha to take the connection to Rome, get on a flight to Cagliari and finally take the 131 in the direction of Samassi where a few days later Francesco Tanas, 54, who emigrated in 1996, also arrived.
Manager
«I have worked in tourism all over the world and for ten years I have lived in Panama, where I was a partner of a company that deals with import-export. With the pandemic business decreased and at a certain point we asked ourselves what was best to do ». The decision to close everything and leave had to wait for the reopening of flights and a very rigid lockdown. "In Panama all businesses were closed. The exits regulated by gender and documents. Men could go out - only in the few cases allowed - on odd days and women on even ones. The time slot - because an hour was granted - was identified by the latest number of the identity card ». Not having a job anymore, even assistance in case of contagion was at risk. «The system is identical to the American one: if you stop working, you no longer pay the dues and you are not covered unless you pay very high amounts. Better to come back here ». A choice he never imagined making. "Not even the 2004 tsunami in the Maldives, where I was on business, made me go home. At that moment I never worried about myself. This time it was different. And then here I have my parents: they are elderly, let's say it is the opportunity to be with them ».
Bartender
Not even Carlo Murgia, 47, who left Seulo for London several years ago, did not hesitate to pack up and get on a plane with his wife Francesca and their baby daughter. For three years he had been based in Guildford, a town of just under 100,000 inhabitants south of Big Ben, where he worked as a barman in an Italian restaurant. «Learning English at the age of 40 was not easy and perhaps the idea of returning home had been around for a while. But with Covid I no longer had any doubts. There was no attention from the point of view of infections, especially at the beginning the situation was handled very badly: no mask required, only the gel at the entrance to the shops ». In Seulo forever? "With this pandemic, we have had to learn that we can never tell anymore. For sure we stay here for now. I have taken over a family farm which I work full time ».
Shop assistant
The embrace with relatives in Seulo (and with his brother Enrico, mayor of the town) is in early July. «Here life has another value, the climate, the land. I've always known it but now that I'm back I can't forget it ». Carlo's nephew, Riccardo Murgia, 21 years old, two of which spent in England, also returned in a very short time. "I had a good job as a manager in an appliance store, but I have never regretted returning to Sardinia and doing it quickly." In fact Riccardo was the fastest: on March 14, when Italy was about to enter its darkest phase, he flew away from the United Kingdom and landed in Cagliari. «I have left many things in the English house, maybe one day I will return to take them back. Here I did the quarantine, in fact I did two. Now I work as a promoter and when all this is over I will decide what to do ».
Chef
Raffaele Pilia, 47, from Isili, took off from Gran Canaria on 31 October, however. "I lived there for 12 years and worked as a cook in a Spanish restaurant that was closed for lockdown from March 15th to August 1st. I don't know if it was the call of home, of the family, but I wanted to go back ». The cook answers the phone from his parents' tavern where he spends the days of isolation with his Friulian girlfriend. On his return he found a country where the number of infected is higher than elsewhere. "What to say? Here, too, the risk of getting sick is there and it will be necessary to pay close attention, but at least I'm home. I don't even think about leaving: I have already resumed my residence in the village ».
Mariella Careddu
https: //www.unionesarda.it/sardi-nel-mondo
You can send your letters, photos, videos and news to isardinelmondo@unionesarda.it
---
---
---
---