stamped
"Cooking al fresco", also a Marrubiese in the project
Roberto Cabras, Assistant Chief of the Penitentiary Police, among the promoters of the magazine dedicated to food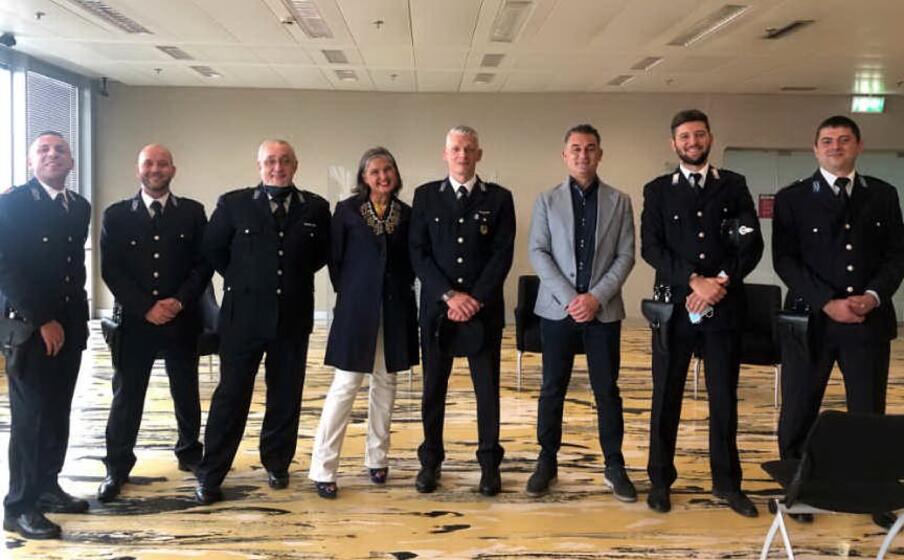 The success of the "Cucinare al fresco" project continues, which sees, among the collaborators of the initiative, the Marrubian agent Roberto Simone Cabras, Assistant Chief of the prison police serving in Bollate, in the province of Milan.
Together with a delegation of colleagues from the Bassone di Como prison, he was invited to Palazzo Pirelli, seat of the Lombardy Regional Council, by President Alessandro Fermi for the support given to the creation of the magazine "Cucinare al fresco", created thanks to various groups of prisoners.
Authors of the initiative four groups of inmates who got involved to create a publication dedicated to food. An experiment started three years ago inside the Bassone di Como prison, then entered the prisons of Bollate, Varese and Opera and which this year involved all Italian prisons.
At the beginning of the year a protocol was signed between the Lombardy Regional Superintendency, the Como Prison Director and the creator of the project Arianna Augustoni to develop the initiative in the largest number of institutions in our country. Despite the emergency linked to Covid-19 which in recent months has also involved prisons, strongly influencing their activity, the project has continued, so much so that a new issue of the magazine will be released at the end of the month and another is expected for Christmas.
The milestone was reached with the fundamental contribution of some prison officers: in addition to Roberto Simone Cabras of the Milanese prison in Bollate, also the policemen Giuseppe Aliberti, Rosario Grimaudo, Pietro Saviano, Domenico Egido, Fedele Annicchiarico, Massimiliano Uri and Antino Cepparano del Bassone di Como.
"Cooking al fresco - underlined Fermi - is an encouragement to never lose hope, an invitation to look beyond and to think of being able to contribute, with small gestures, to actions that always and continuously encourage us to do something good: just like when in the kitchen we put our hand to the stove, giving space to creativity and imagination and trusting that others will appreciate what we have been able to achieve. But if for a good dish you need to find the right amalgam between its ingredients, so for the success of each initiative requires maximum collaboration between all parties involved: this is why the role and help of these agents proved to be important for the success of the project, having guaranteed them in recent months the conditions for its continuation and implementation " .
(Unioneonline / D)
---
---
---
---