history
Marrubiese awarded in Milan
He created the "Cooking al fresco" project for prisons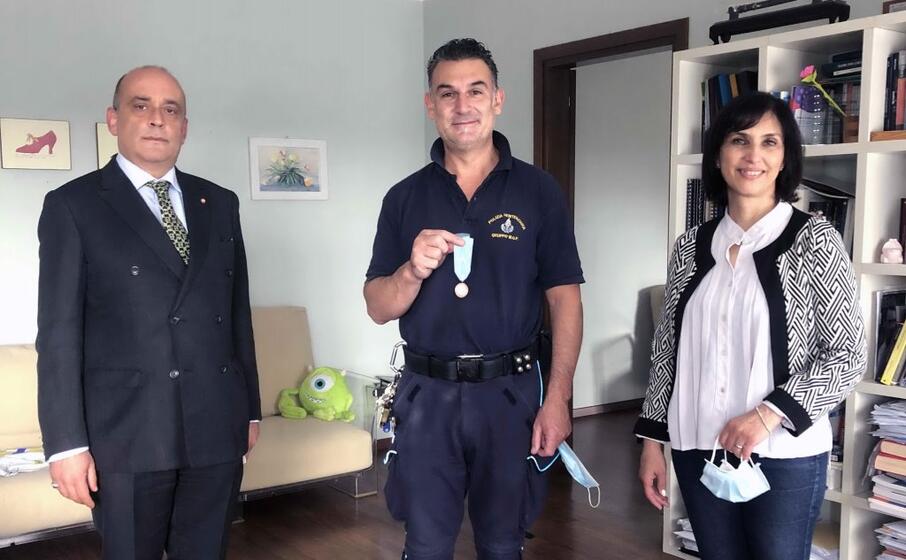 «The kitchen unites. But it is also a way of telling and communicating with others ».
This was explained by Roberto Cabras, 49, emigrant of Marrubiu, assistant chief of the Bollate prison, in the metropolitan city of Milan. Cabras, who left his country of origin 30 years ago, promoted and followed the project "Cooking al fresco" in the Lombard penitentiary. Initiative that earned him a merit from the Sacred Military Constantinian Order of St. George.
The prize
A bronze medal "that I did not expect, but rewarded the many efforts of all the staff in our prison and inmates. Together we carried out this project, together with others, despite the pandemic emergency ».
"Cooking al fresco" involved eight inmates from Bollate prison, which houses a total of 1300 people. A laboratory where prisoners wrote recipes using ingredients available in the prison. "A laboratory that thrilled our inmates," explained Cabras, "a therapeutic project too. Cooking reminds everyone of their own home, helps to better endure the distance from their family. There are also many foreigners in our institution. A life is often contained in a recipe ».
The laboratories
In fact, the inmates also discussed their life experiences in the laboratories. "We brought outside the flavors and aromas of the cuisine lived behind bars," said the Marrubian emigrant. Experience increasingly known also thanks to the publication of recipes and stories in magazines and thematic periodicals. A book will even come out next Christmas.
An example
A pilot project, which has now become an example for many other Italian prisons. But even in Cabras's life, cooking plays a fundamental role. «I never stopped preparing the dishes of my land, which help me feel close to Sardinia. My favorites are suckling pig, lamb and roast kid », confessed the assistant head of the Bollate prison, also regional coordinator of the sector, who follows the maintenance of the prison structures. "In the midst of a pandemic, we took action to allow prisoners to hear family members with video calls and we set up workshops for the production of masks." Mayor Andrea Santucciu, 42, commented: "There are many Marubian individuals, given the many awards granted by our administration in recent years. Even Roberto Cabras, albeit emigrated, is another of our individualities and our excellences, which bears the name of Marrubiu high in the peninsula. All individualities, which make our country great ».
Antonio Pintori
***
https: //www.unionesarda.it/sardi-nel-mondo
You can send your letters, photos, videos and news to isardinelmondo@unionesarda.it
---
---
---
---