the initiative
Virus, free cut for doctors and nurses: Bari, the gift of Gianluca, a barber of Sardinian origin
Agus, 29 years old, father from Cagliari and a great desire to leave: "But every Sunday I will thank with my work who has been in the trenches in the hospitals"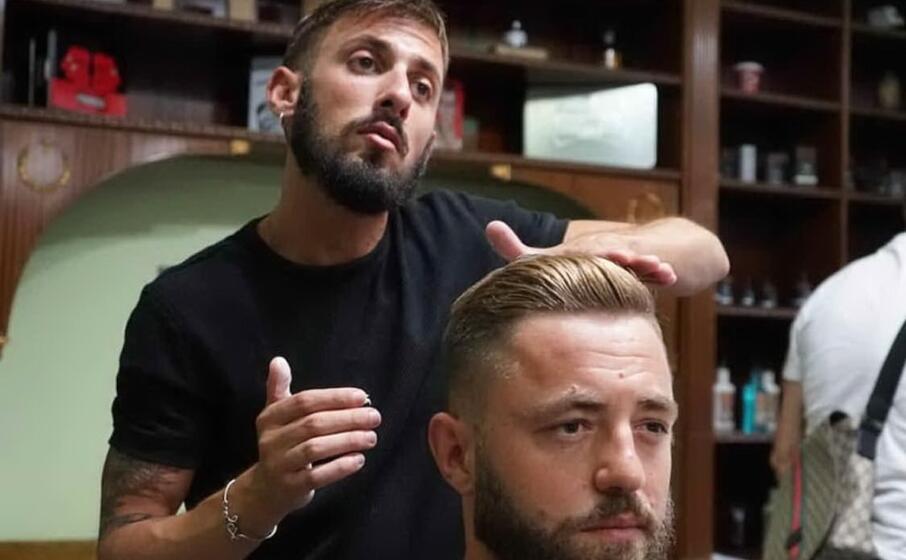 "I too, in my small way, want to thank those who have been at the forefront of the fight against coronavirus in recent months."
This is the declaration of intent by Gianluca Agus, a barber of Sardinian origin residing in Bari, who every Sunday, in his "Anniventi" shop, decided to cut the hair for free for doctors, nurses and social-health workers who resisted - and that are still resisting - in the "trench" of hospitals put to the test by the Covid-19 emergency that shocked Italy.
It is he, 29 years old, a Cagliari father who emigrated to Puglia and grandparents who still live on the island, to explain the initiative to L'Unione Sarda.it.
How did this idea come about?
"From the stories of a friend, a volunteer in 118. In recent weeks she has told me about what was happening in the hospitals and what she experienced firsthand during the nights in the ambulance. Stories that deeply affected me".
What did he tell you?
"Of the fear, of the risks, of the insomnia, of the exhausting shifts. I have heard of restaurateurs who have helped to relieve the pressure of those who were in the front line delivering pizzas or breakfasts in the departments. And I said to myself: when I reopen I will also do something to thank those who sacrificed themselves without sparing themselves during the lockdown ".
When will it reopen?
"Monday May 18th. I can't wait. And since we will be able to stay open even on the weekend, I decided to dedicate Sunday to those who have been in the trenches in hospitals."
What security measures will you need to take for customer safety?
"First of all, reservations. Only one person will enter the shop at a time, by appointment. Farewell to the waiting room."
And then?
"Secondly, we will have to measure the temperature of all those who present themselves. Above 37.5 degrees, there is no entry."
And for the "contact" with customers?
"Masks, gloves, strictly disposable towels".
Sanitizing tools?
"Ah, for that there is no problem: we have always been very careful about sterilization".
How did you spend the lockdown?
"I didn't miss working. I was at home. Like everyone else. And I studied to further improve my skills and customer service in view of the fateful reopening."
Has your business suffered many repercussions due to the emergency?
"I opened three years ago and I made debts to be able to start the business. In these weeks there have been no income and expenses and bills have accumulated. Fortunately I had something aside. But I don't worry. I am confident for the future We will pay what we owe and move on. "
Is the state helping your category?
"Look, even in this case I have faith that the promises of support are kept. And I say this even if I got the famous 600 euro bonus only the day before yesterday, almost a month after the request. But we come from too big an emergency. I can't think it won't be all right. "
The first place you will go when there is a green light to travel outside the region?
"Obviously in Sardinia. I can't go back as often as I would like, because of work. Now the virus has been put in. But I can't wait to see my relatives again, eat a nice porceddu with them and forget about this difficult period. "
---
---
---
---