history
From Sweden to Asia with a project
Matteo Argiolas deals with technology for health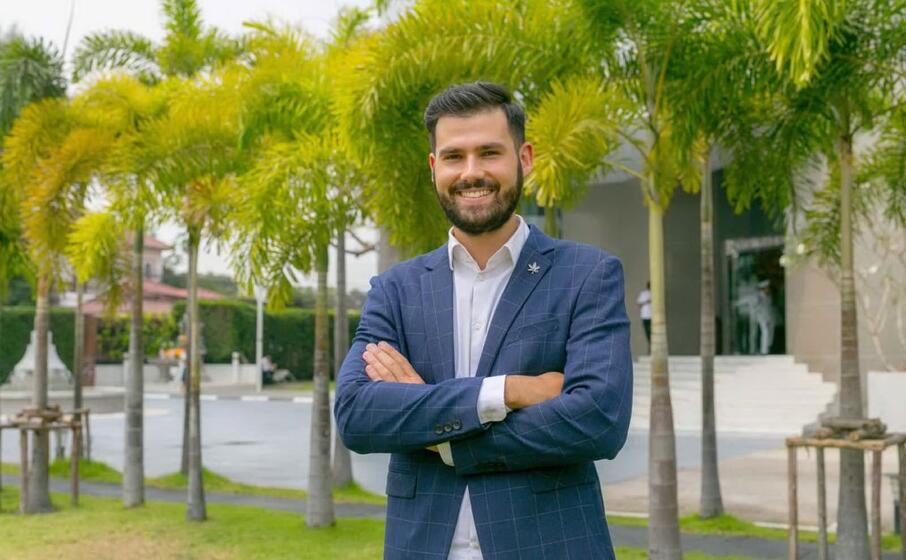 When he left for the first exchange, at 18, in Ohio, he spent weeks saying only yes and no. He understood little or nothing, yet he had to study and take exams. In English. "The survival instinct makes you learn fast." Matteo Argiolas, 32, has come a long way since then, with a degree in Economics and Business Management in Cagliari and a specialist in International Marketing in Sweden. He deals with technology and internet in Bangkok where he is working on starting a digital bank. But his dream is another: a technology company at the service of mental health to e-counseling, therapies and expert sessions through online platforms. "The digital world can be useful to dispel taboos and cultural blocks still strong in Asia".
The University
As a boy he was a good hockeysta in the junior team of Amicora but his stature - he is one meter and 90 meters tall - did not help him. Rather. "Too many back pains." Better the basketball he had practiced at the Esperia. In America, however, he had gone to football in the school team where he had stayed a year. «I graduated in Dayton and, back home, also at Michelangelo, scientific high school». Then he chose Economy: "It lasted a little longer than expected". There is a reason: he had joined Aegee, an association that organizes student mobility. "I was on the board." And he made a series of trips to London, Budapest, Slovenia, Slovakia, Holland ». It goes without saying that English was no longer a problem. Not even the Swedish. «After the triennial I moved to Vasteras, near Stockholm». He had actually been there for two months: "They had accepted me with reservations before graduating in 2014." He had chosen Sweden partly for economic reasons, "European citizens do not pay university fees", partly because in Ohio he lived in a family with a Swedish boy and wanted to discover that world. This time, however, he did everything in record time: graduation in one year.
The job
"My idea was to stay and look for a job in the marketing and technology sector." But there was a problem: the language. "Everyone speaks English, children and the elderly, but the business level of Swedish is required for the job." To give preference to young people at home. "I have learned but not up to that point." And then, the climate: "In the summer there is light until 11 pm, in the winter there is never sunshine and for months I have had to take vitamin D tablets". But there is no pollution. Through a student association he sought an internship. Not around the corner. "I applied in Vietnam, India, China, I wanted a truly international path". As if to say: Europe is small. He found an American tech company in Bangkok. «After graduation I returned to Cagliari, two weeks time and I was flying. I had never been to Asia, the cities are cosmopolitan, I didn't have the shock I expected ». He did the internship with a Mexican girl, two Filipinos and a Malaysian. Free accommodation and salary. "The cost of living is low, I had money to go out in the evening."
The exchange
After six months, he was hired full time, in the social sector, but he wasn't what he wanted. "Better marketing." Too bad that the project he was working on was blocked due to lack of funds. "Fortunately for me two weeks before they left me, I got in touch with a couple, he an American from Hong Kong: they took care of payments on the mobile phone for Chinese tourists." They took him as marketing manager, between Hong Kong and Bangkok. It did not last long, seven months: he remained without a permanent job until, at the end of 2017, he entered the world of strategy with a digital insurance company. «For the first time I was involved in the product, in the market, in the sales methods. I always made a strategy with an eye to marketing ». But as there is no permanent job, he has changed yet: a month of vacation and in 2018 he was working for a German database company with a short-term project. «In three months I created the marketing plan, the strategy, the efficiency of the accounts in view of the start». With your hands? Never. And then immediately after there was the time to deal with tourism and technology between Ho Chi Minh City (Saigon) and Bangkok for a Vietnamese company.
The project
After that experience, in January he was ready for a new business: «A non-bank bank, to be expanded throughout Thailand. No deposits but only financial loans ». The project is on its way to finishing: "It starts in late July". But how many hours do you work every day? "Even today, which is a holiday, because the king's coronation is celebrated here, I am working." From home. Fault of the coronavirus. "Shopping malls and stadiums are closed, there is a curfew from ten in the evening to 5 in the morning. During the day you go around with a mask, in all buildings the security guards monitor the temperature ».
Sardinia
The nostalgia for Cagliari makes itself felt: "I miss my city very much, especially in the summer". In Thailand, life is cheaper, job opportunities are endless, wages are high "but there is traffic, very hot and western food costs more". But his future is there: "My fiancée, of Indian origin, is a Thai citizen." He's working on his mental health project. "I have already contacted the faculties of psychology and some IT developers." He does not say it but it is easy to imagine his motto: those who stop are lost.
Maria Francesca Chiappe
---
---
---
---