a xiamen
A woman from Cagliari in China: "Shops, bars and parks open but the rules are strict"
Alessandra Morgante has lived in the Asian country for years: "I feel safer here than in Sardinia"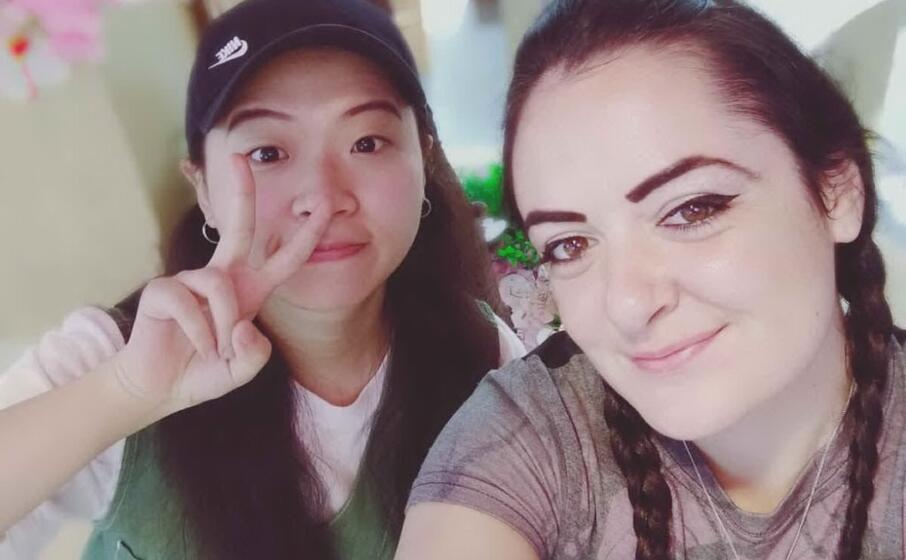 «Phase 2? I feel safer in China than in Sardinia: here the controls are punctual and people respect the rules ». Alessandra Morgante, 34, from Cagliari, answers the phone from the apartment she shares with the cat Lillì in Xiamen, a town of over three and a half million inhabitants overlooking the sea in the province of Fujian. From 2018 he teaches English at the local university and next July (Covid permitting) he will return to England - where he spent ten years of his life - to discuss the doctoral thesis in Cardiff. "The lockdown for me started on February 16th, upon returning from a trip to Thailand."
Free admission?
«The air connections had not yet been suspended and the quarantine was not planned, but it was only possible to enter with a work visa. My boyfriend who had that business was sent home. "
Anti-contagion procedures on landing?
"They made us download an app to monitor the movements, measured the temperature and made us fill in a form with name, surname, address and passport and telephone numbers".
Phase 2 has also started in China. How does it work?
«It's not like in Italy. Here they have waited for more than a month for the infections to be zero, for two weeks all activities have been reopened but to enter everywhere, even in their own condominium, you have to have the fever measured by government agents and fill out the usual form ».
What's its purpose?
"Those with a temperature of 37.2 are taken to the hospital for tests, while the completed sheets are useful for tracking down all people at risk in the event of an infection".
Did you swab?
«No, but I have just been contacted by the University: staff and students, all of them, will be tested and if the results are negative in late May, the faculty will reopen. For now we work online ».
Mandatory mask?
«Always and I want to say it: it is not a cultural issue but a way to avoid contagion. To make them more effective, we waterproof them with a spray created specifically for coronavirus ».
In Italy the masks were nowhere to be found.
"Here too, for this reason the government has established that they should be distributed free of charge in the condominiums, the administrator takes care of them: thirty a month for each one".
How do you use it in a restaurant?
«It can only be lowered to eat, but as soon as it is finished, it must be replaced. Otherwise there are no problems. No rules on distances but the entrances are contingent and you must always use the sanitizer ».
Gloves?
"No, only on the subway but you wash your hands constantly."
What was the worst moment?
"Maybe that's just it. China has managed to contain the virus but the new infections have come from abroad and many, especially the elderly, blame foreigners ».
Any discrimination?
"Twice. The first on the subway: I sat down and five people around me got up and took their seats elsewhere ».
The second?
«When I brought my cat to the government office for the checks necessary for expatriation, as an Italian, I had to wait outside. Fortunately there was a Chinese friend of mine who took care of everything. While an Italian friend of mine was refused a foot massage. "
Are they angry with the Italians?
«No, but the images of our cities with many people on the street during the lockdown in the eyes of those who live here are shocking. In China, if the government says there is no going out, everyone stays at home. Point. Doing so, the worst period, which lasted three months, has passed ».
Phase 2 in Cagliari: everyone running and a few masks on the street.
"It seems to me too early. No one thought about the race here, going out was unthinkable, even shopping: they left it directly in front of the door ».
Are parks and beaches open now?
«Yes, at the entrance the usual procedure is followed and a limited number of people can enter. After a shift they go out and give way to others. "
Xiamen is a seaside city. Does tourism show signs of life?
"To help the recovery of the sector, the government has made free everything that is public: transport, museums and whatever else is provided by the state. Because even in these parts the crisis has been severe ".
Help for the poor from Covid?
«A card for each family to do the shopping. And then here the sense of community is very strong: even if you are not part of the family, you are part of it. In condominiums, gatherings are made for those who have no money to eat ».
Was he in contact with the embassy?
"No, nobody ever looked for me. While from the first days I was contacted by an association that works for the integration between Chinese and foreign citizens. They asked me if I needed anything and they made me feel at home. "
Was she worried about her family in Cagliari?
"Very very much. Paradoxically, I was more protected here than they were. What frightens me is the way of thinking of Europeans who see in the quarantine a limitation of personal freedom ».
It is not so?
"To me, although I was alone at home with the cat, there was no lack of freedom: I was the first to not want to go out because I was afraid of contagion".
So what did you miss most?
"The serenity".
When will you return to Sardinia?
"I have not decided yet. For now I stay here where I feel safer. "
Mariella Careddu
---
---
---
---