montecitorio
Sgarbi screams without a mask, carried away by the House clerks
This is the second time this has happened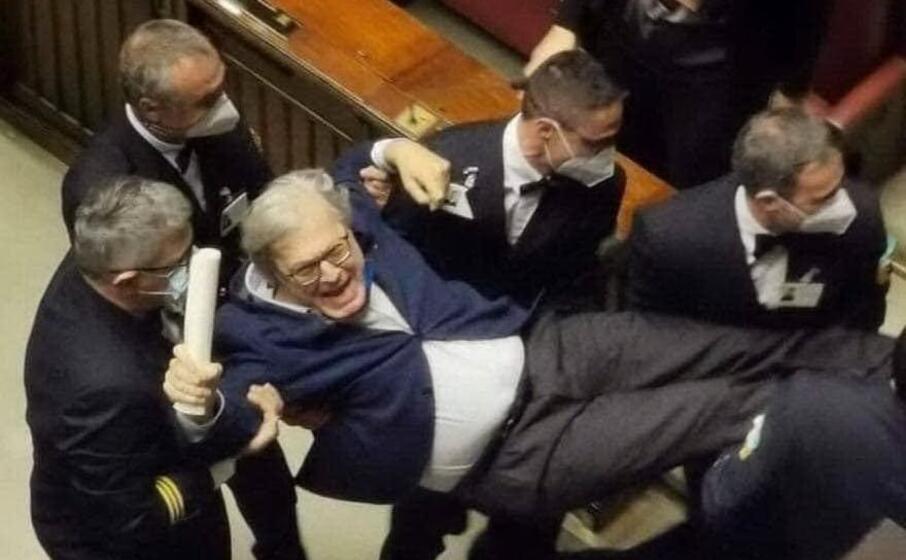 Vittorio Sgarbi cu ricasca. He does not wear a mask in the Montecitorio courtroom and is thrown out, carried away by the House clerks.
In an excited phase of the debate, the deputy was screaming without wearing a mask. After being invited several times to wear it by the vice president of the Aula Maria Elena Spadoni he was kicked out and the session suspended.
But the art critic refused to leave the Chamber and the deputies of the League intervened to defend him and act as a shield, creating a gathering in the center of the hemicycle that aroused the protests of the majority. To enforce the expulsion order, therefore, the clerks intervened, but they first had to go into contact with the deputies in the center of the hemicycle and then had to take on Sgarbi who was always without a mask.
"The use of the mask is a pretext, the government and the majority do not tolerate dissent. Fico and Vice President Spadoni are fascists. Among other things, just today I had produced the medical certificate attesting to the chronic rhinitis I have suffered from for 40 years and therefore the contraindication to the use of the mask, but Fico did not take it into account ", says Sgarbi.
For his part, Fico has given a mandate to the Quaestors to open an investigation into the episode that could lead to a sanction by the art critic parliamentarian.
(Unioneonline / L)
---
---
---
---