Monserrato
The young globetrotter with the Four died inside the suitcase
Andrea Atzeni visited 15 countries. "The first trip? Thanks to The Union"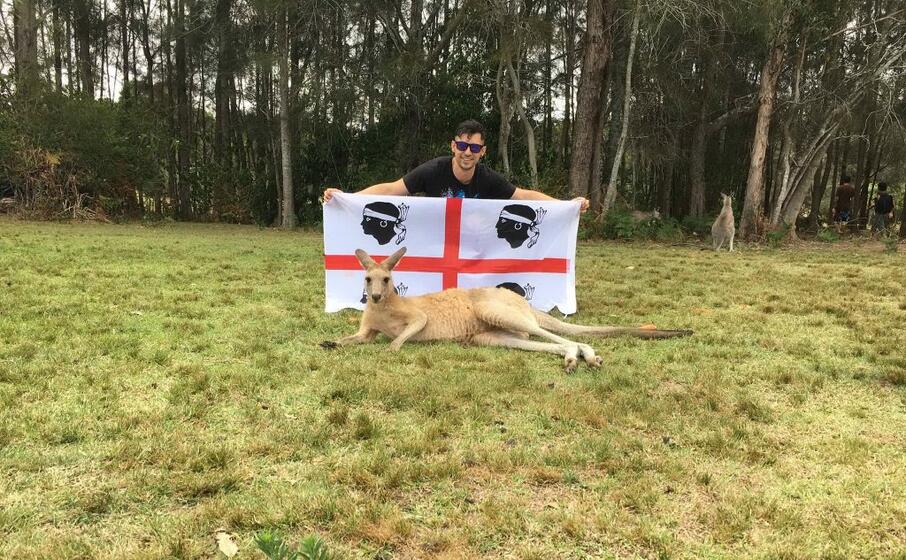 From his home in Monserrato he left in search of a job around the world, with the flag of the Four Moors in his suitcase and a great desire to make his island known to others: this is the story of Andrea Atzeni, born in 1988, now a year ago returned to base due to the pandemic. But he hopes to be able to leave again as soon as vaccines and health passports allow him, to enrich the photo collection with international backgrounds. So far he has visited fifteen countries, almost all from outside Europe.
At school
Andrea Atzeni's adventure begins when he chooses his studies, after the middle school he had clear ideas about the future: he wanted to travel. The decision is to opt for the study of foreign languages, in 2008 comes the linguistic diploma. Learn English, French and German. After a few odd jobs, the decision to enroll at university, a course of study in motor science also comes: the degree is in 2014. "I managed to find some employment in gyms, but I always had the idea of leaving" , explains Atzeni.
On the newspaper
"The turning point came when, in response to an ad found in L'Unione Sarda, I found my first job in the United States". In fact, at the end of 2014 he flies to Orlando, Florida, where he is hired at Disney World to work in an Italian restaurant: "A great experience that gave me the opportunity to travel a lot", explains Atzeni, "as soon as I had a few days off I went up and down the United States ». Once his contract expired, he did not lose heart and continues with his travels: «I still took advantage of the opportunity to stay in America, the visa was still valid. At the expiry I still had to return to Italy ». But he didn't even have time to set foot inside his house in via Marcello in Monserrato, which was already preparing to leave for Australia.
At the antipodes
«As soon as I got home I booked the tickets to go to the other side of the world», Atzeni continues, «the destination was Sydney. I was there for two and a half years, a fairly satisfactory period also from an economic point of view ». Life in Australia certainly has higher costs than ours but income goes hand in hand: "I was a waiter and a bartender but I assure you that the salary allowed me to easily pay rent, bills, evening outings and even travel", he specifies again, "from Australia I was able to visit Southeast Asia". After Australia Andrea Atzeni flies to New Zealand: «Initially Auckland, where I stayed for 5 months before moving to Wellington». In December 2019 the adventure in Wellington ends and decides to return to Sardinia, but not before making a further step: "I left New Zealand in the direction of Los Angeles and I took the opportunity for a trip to California", explains Andrea Atzeni , "I then made a trip to the Cayman Islands before spending 5 days in New York and from there I sailed to Cagliari".
Return
We arrived in February 2020 when a call came from London: «There was the possibility of going to work in a hotel, I didn't ask for it. I bought the tickets and left ». Unfortunately, however, the pandemic was taking over the world and Andrea Atzeni, due to the lockdowns, was also forced to return to Sardinia. «I can't wait to be able to leave again for the world, while I was waiting I resumed my university studies so I invest my time. The desire to leave is still great ", Atzeni continues," I recommend to all youngsters, especially recent graduates, to travel. It would not be bad if everyone takes a sabbatical after graduation to see how the world is really made and then touch it firsthand, it is a priceless experience ».
Paolo Melis
***
https: //www.unionesarda.it/sardi-nel-mondo
You can send your letters, photos, videos and news to isardinelmondo@unionesarda.it
---
---
---
---